Megafest 6.1
From Megafest
Megafest 6.1 took place from 28 December 2007 through 2 January 2008 at monarch.festing.org.
Summary
Schedule
Humblik will drive from Lincoln on Thursday, 27 December and pick up Yanthor, then stay at monarch.festing.org. Jaeger and Kiesa will be flying in to Denver from visiting Jaeger's parents on Friday afternoon, 28 December 2007 on United flight 523, scheduled to land in Denver at 13:55 MST. Anya will arrive from somewhere north of Denver that day. Bitscape expects to arrive in Colorado on 27 December, pending getting time off. Yanthor, Anya, and Humblik will depart on 2 January 2008.
Humblik and Yanthor arrived at the Monarch compound around 23:00 27 December 2007, shoveled driveway, hauled our stuff inside, and commenced playing the Wii until the wee hours of the morning. I didn't feel tired quite yet. I still have a nice buzz from the caffeine I consumed on the drive, and the tenseness of driving at top alertness on slick roads. I now have Saphira up and running, though the monitor is flickering suspiciously. It may be on the edge of too many trips. Good excuse to buy a flat panel, well maybe in a few months.
Movie Voting
28 December 2007
1 January 2008
We're voting for both movies and table games.
Weather
Jaeger points out that snow is forecast for Thursday, so those planning on driving may want to be aware of the road conditions. The Colorado Department of Transportation maintains cotrip.org with up-to-date road conditions.
American Football
According to Wikipedia[1]:
American football, known in the United States simply as football, is a competitive team sport known for mixing complex strategy with intense physical play. The object of the game is to score points by advancing the pointed-oval shaped ball into the opposing team's end zone. The ball can be advanced by carrying it (a running play) or by throwing it to a teammate (a passing play). Points can be scored in a variety of ways, including carrying the ball over the goal line, throwing the ball to another player past the goal line, tackling an opposing ball carrier in his own end zone, or kicking the ball through the goal posts on the opposing side. The winner is the team with the most points when the time expires and the last play ends.
Yanthor and Anya will be attending the Broncos/Vikings game in Denver on Sunday, 30 December.
Megafest Ski Outing
Main article: Megafest 6.1 Ski Outing
Since Nebraska does not have anything resembling mountains from which one can ski, Yanthor, Anya, and Humblik expressed interest in spending some time to strap waxed boards to their feet and careen down a nearby mountain, whilst visiting Colorado. In IRC-based discussion on the upcoming gatherings, Jaeger commented:
Which could be "fun", for special definitions of "fun" that include getting up early, braving the harsh light of the Daystar, and spending time in the cold.
Yanthor retorted:
...says the person who goes out hiking phenomenal distances[2] in the middle of nowhere...
They put aside their differences and decided to visit Eldora on Monday, 31 December.
GnuPG / PGP Key Signing
In light of recent news regarding basic network security issues (see article for details), Bitscape proposes that we all exchange and sign updated GnuPG/PGP keys at some point during the Megafest.
Food
We anticipate having two meals per day in normal Megafesting fashion. The actual food discussion will take place early in the Megafest.
Before the Megafest
Yanthor and Humblik are invited to pillage the fridge, freezer, and cabinets for any food they find. The upright freezer in the basement, immediately to the left at the bottom of the stairs, holds a variety of nearly-ready-to-eat food (contents listed on the door). However, most breakfast food is located in the upstairs cabinets and freezer. Those interested in more instant gratification may be interested in Nicolo's Pizza several blocks away. (Anecdotally their take-out service seems faster than their eat-in service, but I don't have a statistically-significant sample. I am disappointed that their website doesn't have anything resembling a menu.)
Friday, 28 December 2007
Breakfast
Humblik's No-idea-what-to-call-it Tasty Recipe
1 slice of bread
butter
Feta Cheese
Prego Sauce - plain
1 Egg
Garlic Salt
McKay's Chicken Seasoning
Touch of fresh ground pepper
Fry up the egg with the seasonings to taste and desired cooking level. Butter one side of the bread, place buttered side down in frying pan. Sprinkle with feta cheese. I used about 2 teaspoons. Fry the bread on medium heat until it is browned. Place the egg on top of the feta. Heat up the Prego and cover the egg to taste. I put about three tablespoon fulls on mine.
I'm willing to call two of these a meal. It just needs some orange juice and fruit.
Yanthor put in a request for me to make this again later in the fest, which I agreed to.
Supper
Meal: Kiesa: Cuban Black Bean Burritos
Cleanup: Jaeger
Saturday, 29 December 2007
Breakfast
Meal: Humblik's No-idea-what-to-call-it Tasty Recipe
Cleanup: Jaeger
Supper
Meal: Kiesa
Sunday, 30 December 2007
Breakfast
Meal: Jaeger: Jaeger's potato dish; Kiesa: sweet bread and cranberry scones
Cleanup: Yanthor
Supper
Yanthor and Anya will be attending their American Football excursion and will not be eating supper at the Megafest.
Meal: Humblik: Potato Soup; Kiesa: Italian bread pan experiment
Cleanup: Bitscape
Monday, 31 December 2007
The Megafest Ski Outing will take place on Monday. The open hours for the ski lifts suggest an alteration to the normal plan: a much earlier breakfast and some sort of lunch prior to supper.
Breakfast
Meal: Kiesa
Cleanup: Kiesa
Supper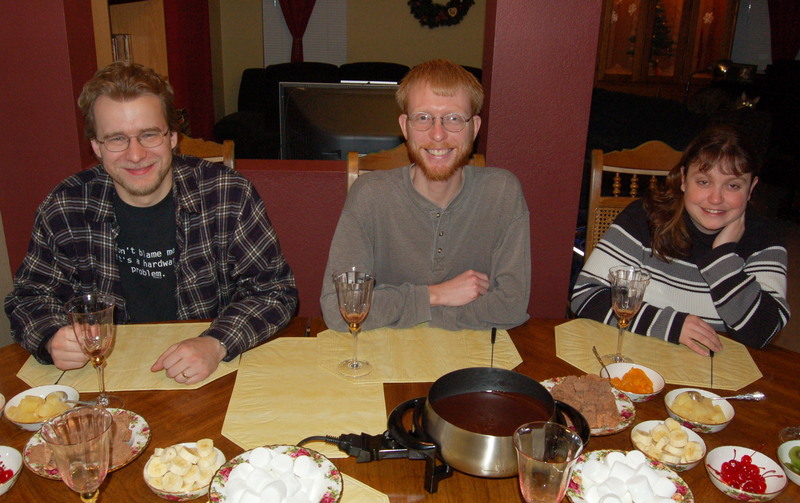 Meal: Kiesa: Lasagna, Chocolate Fondue
Cleanup: Yanthor, Anya
Tuesday, 1 January 2007
Breakfast
Meal: Anya
Cleanup: Anya
Supper
Meal: Kiesa
Cleanup: Jaeger
Wednesday, 2 January 2007
Breakfast
Meal: Humblik: Buttermilk waffles
Ingredients: Whole wheat flour, eggs (cage-free vegetarian-fed with omega-3)
Cleanup: Bitscape
Recycling
Those potentially confused by the dizzying array of waste-disposal options may wish to consult the Megafest Recycling FAQ.
Misc
Please remember that the cats' litter boxes are in the basement. So, it's really important the basement door stays open at all times :) Currently, we have the door propped open with a boot.